Madeira Tourism News
Sighting of Monk Seal at Caniçal, Madeira on a Bird, Whale and Dolphin watching trip of Wind Birds
Madeira Tourism News
Madeira Walks
Useful Information
For those who like to walk or trekking, here is the list of footpaths and levada walks recommended by the Madeira Government, officially updated on the 30th of April 2012. These pedestrian paths are considered safe and in good condition for Madeira and Porto Santo visitants to walk and enjoy the islands' nature and landscapes.
The list below has the portuguese name of the paths. This way you should be aware of some portuguese words:
"Vereda" means footpath or trail
"Caminho" means an old road or pedestrian passage
"Levada" is a path on the side of a water channel, originally built for its maintenance but now mainly for tourist walks, which normally means that the path is flat and does not vary much in altitude.
Recommended pedestrian paths/levada walks in the Island of Madeira
PR 1 - Vereda do Areeiro (Pico do Areeiro - Pico Ruivo)
PR 1.1 - Vereda da Ilha (Pico Ruivo - Ilha)
PR 1.2 - Vereda do Pico Ruivo (Achada do Teixeira - Pico Ruivo)
PR 1.3 - Vereda da Encumeada (Pico Ruivo - Encumeada)
PR 2 - Vereda do Urzal (Curral das Freiras - Boaventura)
PR 3 - Vereda do Burro (Pico do Areeiro - Ribeira das Cales)
PR 3.1 - Caminho Real do Monte (Ribeira das Cales - Monte)
PR 4 - Levada do Barreiro (Poço da Neve - Casa do Barreiro)
PR 5 - Vereda das Funduras (Portela - Maroços)
PR 6 - Levada das 25 Fontes (Rabaçal - 25 Fontes)
PR 6.1 - Levada do Risco (Rabaçal - Risco)
PR 7 - Levada do Moinho (Ribeira da Cruz - Lamaceiros)
PR 8 - Vereda da Ponta de S. Lourenço (Baía d'Abra - Cais do Sardinha)
PR 9 - Levada do Caldeirão Ve r d e (Queimadas - Caldeirão Verde - Caldeirão do Inferno)
PR 10 - Levada do Furado (Ribeiro Frio - Portela)
PR 11 - Vereda dos Balcões (Ribeiro Frio - Balcões)
PR 12 - Caminho Real da Encumeada (Boca da Corrida - Encumeada)
PR 13 - Vereda do Fanal (Assobiadores - Paul da Serra - Fanal)
PR 14 - Levada dos Cedros (Fanal - Curral Falso)
PR 15 - Vereda da Ribeira da Janela (Curral Falso - Ribeira da Janela)
PR 16 - Levada Fajã do Rodrigues (Fajã da Ama - Ribeira do Inferno)
PR 17 - Caminho do Pináculo e Folhadal (Lombo do Mouro - Caramujo - Folhadal - Encumeada)
PR 18 - Levada do Rei (Quebradas - Ribeiro Bonito)
PR 19 - Caminho Real do Paul do Mar (Prazeres - Paul do Mar)
PR 20 - Vereda do Jardim do Mar (Prazeres - Jardim do Mar)
PR 21 - Caminho do Norte (Encumeada - Ribeira Grande)
PR 22 - Vereda do Chão dos Louros
PR 23 - Levada da Azenha (Azenha - Caminho Velho do Castelo).
Recommended pedestrian paths/levada walks in the Island of Porto Santo
PR1 - Vereda do Pico Branco e Terra Chã (ER111 - Terra Chã)
PR2 - Vereda do Pico do Castelo (Moledo - Pico do Castelo)
Source: JORAM - Jornal Oficial da Região Autónoma da Madeira, Série II, nº 74 de 30 de Abril 2012
Madeira Tourism News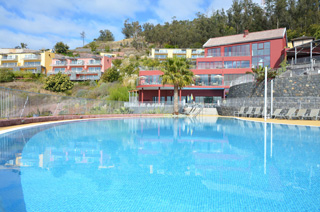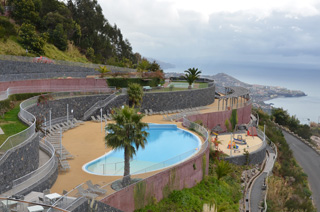 590 meters above the sea, on the top of one of the highest sea cliffs in Europe and one of the most popular view points in Madeira, lies a private condominium of apartments where the new ApartHotel Cabo Girão.
From studios to 2 bedroom apartments this sister hotel of Quintinha São João is the perfect place for one to spend family holidays. All the apartments have sea view, furnished balcony and fully equipped kitchens. The hotel complex offers a wide variety of facilities for children and adults, such as indoor and outdoor swimming pools, tennis courts, green bowling, crazy golf, pool table, tennis table, SPA with treatment rooms, sauna, jacuzzi, turkish bath, gymnasium and workout beds. It also has a restaurant, a bar, a snack bar and a mini-market where one can buy the basics to cook a meal at the apartment or use the barbecue facilities in the site.
Only 29 km away from Madeira airport and 12 km from Funchal city center, at ApartHotel Cabo Girão is a wise choice for family holidays or for a stay out of city centers but yet not so far as well! Cabo Girão is a good starting point for sightseeing around Madeira on a rented car or even walking.

Madeira Events News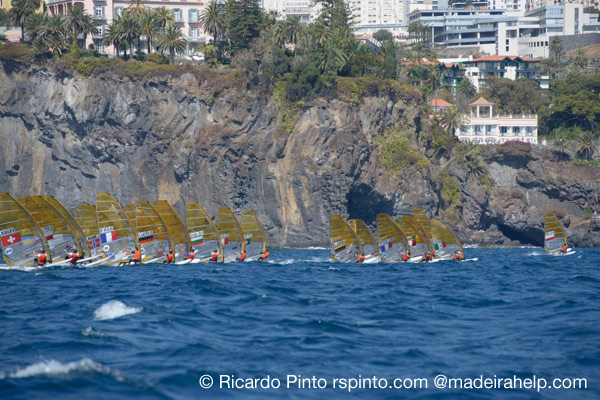 The RSX European Championship is being held in Madeira island from the 23rd February to the 1st of March 2012. So far the windsurfers have sailed a total of 6 regattas in the past 2 days and today, Sunday, is their deserved rest day.
On the first 2 days of the championship the wind has taken some time to arrive to Funchal so the regattas have been postponed for a couple of hours but when it starts to blow it goes between 10 to 16 knots making the boards sailing faster and the race very competitive.
After 6 regattas, so far the provisional Top5 are:
Men
1st - Przemyslaw Miarczynski, from Poland
2nd - Nimrod Mashiah, from Israel
3rd - Byron Kokkalanis, from Greece
4th - Toni Wilhelm, from Germany
5th - Piotr Myszka, from Poland
Women
1st - Marina Alabau, from Spain
2nd - Tuuli Petaja, from Finland
3rd - Maayan Davidovich, from Israel
4th - Blanca Manchon Dominguez, from Spain
5th - Olha Maslivets, from Ukraine
There are still 10 regattas to sail on the next 4 days of competition. Hopefully the sun will continue to shine and the wind will continue to blow, even if it arrives a bit late...

Madeira Walks
Useful Information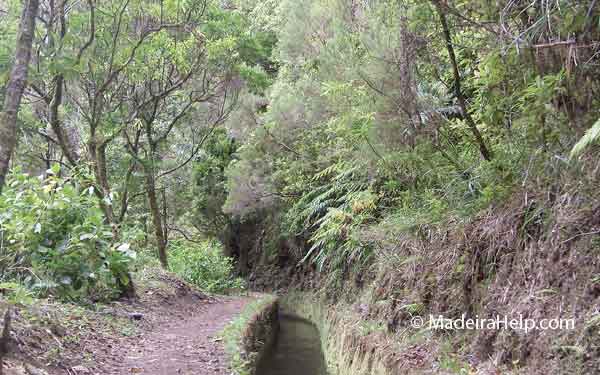 Madeira is known by its levada walks which are walks on a footpaths along a water channel. These footpaths were originally built for the maintenance of the levada but today they are mostly touristic and every tourist visiting Madeira has to walk on one to get his Madeira experience complete.
There has been some fatal accidents during levada walks and most of them could have been prevented, so we here present some safety guidelines for people walking on levadas:
Walk only on the levadas recommended by the Madeira Tourism Board - the ones which at the beginning of it are marked with PR, have a board with information about its difficulty, distance, altitude, a map of the route and have signage along the path
Check the weather forecasts and if there is strong wind or heavy rain do not go. If the weather conditions change suddenly during your walk ponder if it is safer to continue or to turn back through the same way
Do not go alone on this walk, take at least 1 more person with you
Ask local people if the levada or footpath is safe before you start your walk
Always tell someone where you are going and at what time you intend to be back
Take your mobile phone with you and remember the Emergency number is 112
Take appropriate shoes and clothes and never forget a warm jumper
Do not go out of the trail, even if it 'seems' safe for you to go outside it
If there is a built obstacle closing the path it means it is not safe so turn back through the same way and never surpass the obstacle
Do not run any risk