Madeira Flora
Porto Santo Island has gained another endemic species of flower. A new species of Echium, from the Boraginaceae family, was recently described for Porto Santo Island as Echium portosanctensis.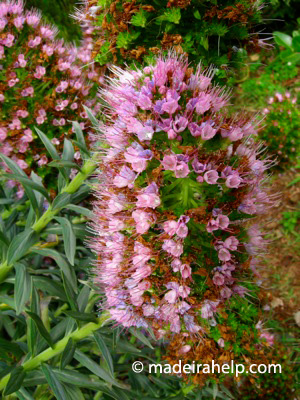 This species presents different characteristics from the Prides of Madeira Echium candicans and Echium nervosum which inflorescence are mainly blue. The Pride of Porto Santo is also a shrub, like the other Madeira Echiums, which can grow up to 2.4 meters but shows pinkish-white inflorescence with reddish stamens.
The new taxon is a rare species only found in Pico Branco and Pico da Gandaia, in Porto Santo.
Madeira Flora
Madeira Photos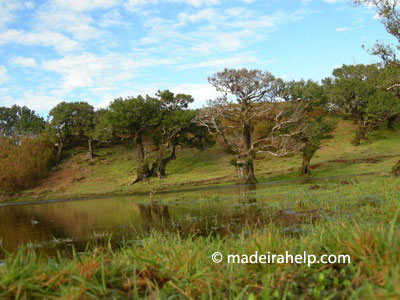 After a few rainy days Madeira natural landscape get even more beautiful, greener and magical. This photo was taken in Fanal, close to Paúl da Serra (the highest and largest plateau in Madeira island). Fanal has an old crater, surrounded by centenary laurel trees, which fills up with water when it rains much. Just another wonder of Madeira Nature!
Madeira Flora
Madeira Island is much poorer and it can get even more due to the fires that destroyed already 10% of the island area and are still burning, now in the Laurel Forest.
The fires that started on the 13th of August 2010 and which burnt all the west central mountainous massif, including Pico do Areeiro, Pico Ruivo, Achada do Teixeira, Pico Grande, Eira do Serrado and much more mountains and sites which were the delights of many tourists that visit Madeira, have endangered many endemic species of fauna & flora.
Regarding Madeira fauna, the most affected was Zino's petrels Pterodroma madeira, an endemic seabird who nest on the highest mountains of Madeira and who lost all this year's chicks and some adults as their nests were all burnt.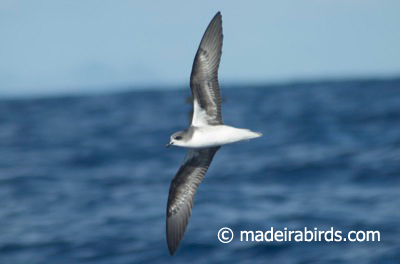 As for Madeira flora, the biggest colony of Madeira Mountain-ash Sorbus maderensis, another endemism of Madeira, which was settled along side the road to Pico do Areeiro has also burnt and now there is fewer than 6 specimens in the wild.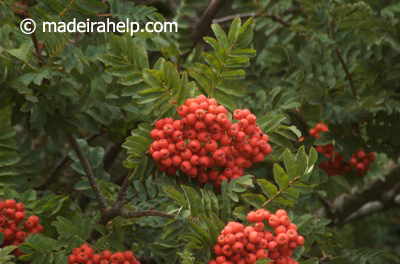 Pico do Areeiro was a place where many endemic species of flora were regenerating after cattle was forbidden up there and now, species like Madeira Heather Erica maderensis, Madeira Saxifraga Saxifraga maderensis or Madeira Thrift Armeria maderensis, between others are threatened to extinction as this was their main habitat.
We are mourning for Madeira species!
Madeira Flora
The Madeira Orchid Dactylorhiza foliosa (Verm.) Sóo, is an endemic species of Madeira, this means that it can not be found elsewhere in the world. This plant habitat is the humid areas of the Laurel Forest, specially between the altitudes of 600 and 1000 meters, being common along Levadas that cross this native forest in the north of the island.
Locally called Orquídea da Serra, the Madeira Orchid leaves are long and bright green while the flowers are small, pink or purple clustered in a panicle.
Madeira Orchid blooms from end of May to July/August.
Madeira Flora
Dragon tree Dracaena draco is an endemic tree to Madeira, Azores, Cape Verde and Canary Islands. It is a special tree, one of the few coastal trees in Madeira, with a trunk resembling a palm tree that can reach 15 meters high and with its thick branches growing all from the same spot. Until its 10th year this species has no branches, it is just a thick stem with its long, narrow and blade shaped leaves. After it flowers for the first time it then starts to grow branches that continue to grow with every flowering period which is from August to October. Its panicle flowers are numerous, small and white-greenish colored.
Drangon trees were very common in Madeira and Porto Santo Island but it become extinct in Porto Santo and in Madeira the only wild specimens are the ones on the photo, in Ribeira Brava cliffs. But there are several planted Dragon trees in Gardens, especially in Funchal.
Its fruits are 1 cm diameter globed berries, yellow-orange, with a sweet taste, edible for birds and humans. The lifespan of Dracaena draco is not well define with some saying more than 1000 years but wit others objecting it. But one thing is certain, it lives more than 400 years. These trees were used for dyeing and for varnishing violins with its red, rubber-like resin.